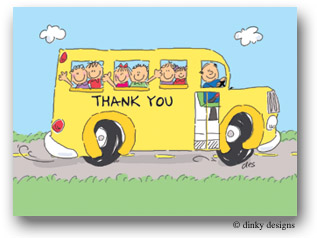 Today is my daughter's bus driver's birthday. Normally a day we wouldn't know about or even care about, but his birthday is one the kids on his bus WANT to celebrate.
Being a bus driver isn't the most glamorous job, isn't the highest paid, but my daughter's bus driver obviously is happy to have it, and the kids are happy to have him! It's a huge responsibility and involves TONS of patience.
He says good morning to every kid who gets on and goodbye to every kid who gets off. Most of the school's bus drivers assign seats to the kids, not him. That's so important to middle schooler's who are usually not speaking to someone and who have a new best friend every week! He's very patient. At one of the stops, he waits every morning for one of the kids to walk all the down the street to the stop and get on the bus. My daughter asked him, "Doesn't that bother you? Waiting for her every morning?" "Nope, not at all!", he replied. He doesn't flinch with the screaming kids. He is the ONLY bus driver who will allow the kid's friends to ride home on his bus. The parents like that. Then we don't have to drive our kids to their friends house after school.
About a week ago, my daughter said that it was her birthday that weekend and (by the way) when was his birthday. He said it was December 10. She went around to all the kids on the bus collecting just $1 each. Some kids gave more than $1, like $5 and even $8! Some kids none at all. But after a few days she collected almost $30 and is going to buy him a gift certificate for his favorite restaurant - The Olive Garden. I'm sure it's a place he doesn't get to visit very often, living on a bus driver's salary. The kids are going to sing Happy Birthday to him. I'm glad he's going to know how much he's appreciated. Only one little flaw. Daughter's sick today! Oh, well. They'll celebrate it tomorrow. He'll be even more surprised then! Happy Birthday Mr. Bus Driver!